Attention Last-Minute Holiday Shoppers
The season of gift-giving is almost upon us! Buying presents for our family and friends is always one of the most fun parts of the holidays but can also be one of the most stressful. Due to our busy schedules, we often tend to leave our shopping to the last minute.
Whether you're a procrastinator by nature or you find yourself caught up in the holiday rush, there's no need to panic. You still have time to come up with thoughtful gifts for your loved ones.
Follow these top 10 tips to guarantee a stress-free last-minute holiday shopping experience — both online and in-store.
1. Make a List to Stay Organized
It's easy to go over your budget and purchase unnecessary items when doing last-minute holiday shopping. To avoid this, make a list of the gifts you're planning to buy and the ones you've already bought before going to any store.
It also helps to set a budget, so you'll know how much to spend on each person. Try to resist the temptation of looking for the perfect gift as it will only lead to overspending. It's ideal to have a backup gift in mind if the first option is unavailable.
2. Do Holiday Shopping Online
Instead of going to the mall, get your holiday shopping done online at places like Amazon, Walmart, or eBay. It is the best way to avoid crowded stores and terrible traffic jams. With just a few clicks, you can find the items on your shopping list and order them easily.
Many online stores offer expedited delivery to guarantee that your orders will arrive just in time for Christmas. There are usually gift wrap options available as well, making it easier for you to send your gifts directly to the recipient.
Another great thing about online shopping is that you can purchase items that may not be available locally and have them delivered to you via international shipping.
3. Shop During Non-Peak Hours
If you need to visit a brick-and-mortar store, it is best to go early in the morning or late at night to skip the crowds. Most retailers have extended hours around the holidays, allowing more time for consumers to do their Christmas shopping.
Going to a store at its non-peak hours is a smart way to beat the hustle and bustle of the holiday crowds. Not only do you get to enjoy a stress-free shopping experience, but you also have more chances of catching deals before they are gone.
4. Hunt for Shipping Deals
Aside from their products, many online stores offer special deals on their shipping prices during this time of the year. This can include free shipping on orders over a specific value or guaranteed next-day shipping.
Make sure to research and take note of different shipping timelines before you hit the checkout button. This will give you more peace of mind knowing that your orders will arrive on time.
If you want to purchase from an online store overseas, you can also consider international package forwarding for value-added services. Using a package forwarding company like Shipito allows you to send your packages to over 200 countries and save up to 80% on shipping costs. We also offer services like Fast Mailout and expedited options.
5. Limit Your Shopping Time
Most popular retailers know exactly how to lure consumers and get them to linger in their stores. But, there's a smart way for you to avoid this trap and resist the urge to overspend.
As you make a shopping list, set a reasonable time limit for each store you plan to visit. This helps you stay focused on the things you need to buy. Leave the store immediately once you've crossed out everything on your list.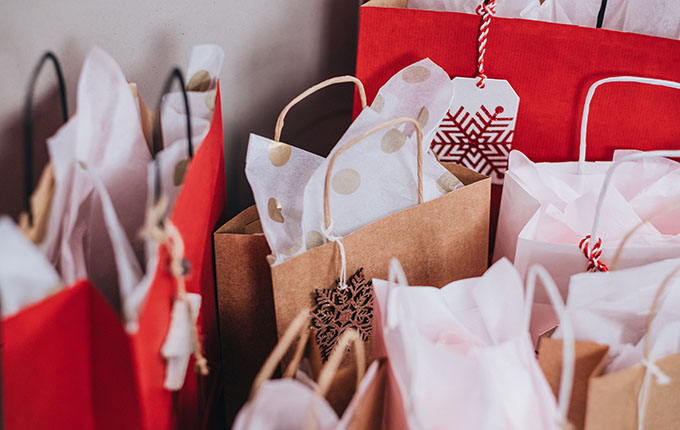 6. Plan Your Shopping Routes
Since you're doing last-minute shopping, you don't always have enough time to wander and look around for deals. Having a strategic plan enables you to find gifts quickly, while keeping you from spending impulsively.
Before heading out, know which stores to visit and what items to get. If you are really serious about it, you can consider the mall's floor plan to determine which shops are closest to each other or located on the same floor. Planning your route prevents unnecessary detours, which saves you more time.
7. Look for Clearance Sales & Discounts
During the holiday season, many retailers will offer discounts or sales to entice more shoppers. Stores typically do clearance markdowns in an effort to move their inventory. It usually happens on particular days of the week leading up to the holidays.
Keep an eye on these special offers and limited-time events and plan your purchases accordingly. This is a great way to score brand new and popular items at lower prices.
You can also get access to various deals online by subscribing to a store's newsletter or checking out various coupon sites.
8. Go for Gift Cards
Whether you're pressed for time or you've run out of ideas for Christmas presents, you can always opt for gift cards. It is one of the best alternatives for procrastinating shoppers since almost every store offers them.
There's no need to worry whether a loved one will like your present or not. Giving them a gift card from their favorite store ensures that they get exactly what they need or want (in their right size, too).
9. Give Food or Beverages
Looking for a foolproof gift idea? You can never go wrong with food! You might be surprised at how many great finds are waiting for you at supermarkets or grocery stores.
Sending gourmet gift baskets or boxes to your loved ones will surely delight them. This option is not only perfect for the holidays, but for all occasions.
Gift baskets are usually packed with premium wine, fruits, baked goods, crackers, cheeses, chocolates, and other assorted treats. You can also make it more personalized by customizing the contents based on the recipient's preference and taste.
10. Make it Personal
No matter how big or small our presents may be, remember that it's always the thought that counts. Let your creativity help you come up with a unique gift idea that cannot easily be found anywhere else.
If you have a passion for baking or cooking, consider gifting your loved one your specialty dishes or homemade pastries. Do you have a talent for drawing or painting? Why not give them a portrait or artwork with a special message for a more personal touch?
You can also create a special coupon to offer your services, whether it's babysitting or dog walking. The recipient will surely appreciate these simple yet thoughtful gifts.
Whatever kind of gift you decide to give this holiday season, remember that it is more about showing someone that you care for them than the dollar amount spent. Make it personal, be creative and have fun with your gift ideas. Those are always the most memorable!
Final Thoughts
We hope that the above tips have been helpful as you hurry to finish your holiday shopping this year. If you enjoyed the list or are looking for international business shipping solutions, feel free to check out all the services that Shipito has to offer! Have questions or want to talk? Click here to get in touch with us today!