Everything your work-from-home office needs
There's nothing quite like making yourself a cup of coffee and going to work. Especially if your commute is a short walk from your kitchen to your office in the next room. Working from home is awesome, as the pandemic may have revealed. If you want to optimize your productivity, you need the best work-from-home office supplies.
What are the best home office supplies, exactly? It varies from one person to another. Luckily, we've narrowed everything down to give you our best home office supplies list.
Get in your work clothes (or your pajamas) and let an international package forwarding company like Shipito help you order these top 10 must-have home office supplies.
1. Comfortable Chair
This is perhaps the quickest way to easiest way to make or break your home office space.
Did you know that if you work 40 hours a week for an entire year, you will have worked for 2,080 hours? That is a lot of time spent in the same chair. Having a good, comfortable chair that provides the needed back support is a must!
Be sure to do your research online or try out chairs with similar features to make sure you are getting the support you need. Amazon and Walmart are great places to start looking for affordable yet durable options.
2. USB Adapters and Charging Ports
What doesn't connect to a USB head or port these days? USB adapters and heads are a must if you have phones, tablets, and other chargeable electronics in your work from home station.
You can select between singular USB adapters or heads or ones where multiple cables can go in. There are also heads available for those who don't have enough ports on their laptops. As the USB has improved in recent years, be sure to have USB C ports as well, for devices that need that.
The benefit of having USB heads is that you can easily find them at places like Best Buy, and charge your electronics away from your computer. As we all know, there's nothing like a clutter-free workstation, and electronics can be hindrances to productivity.
3. Computer Accessories
What do you call a computer that's got no mouse, speakers, mouse pads, or a keyboard?
The answer is simple — useless!
Sure, you may be using a laptop, but if you're going to put it through a whole day of work, you should have the necessary accessories on hand.
Accessories like a mouse, some speakers, and a cooling mat will go a long way in boosting your productivity. Let's not forget how these will add years to your computer's lifespan and limit future issues with the computer as well.
4. Writing Supplies
Don't forget the basics. Your tablet might be equipped with a stylus pen, but technology has yet to replace the ancient art of putting pen to paper.
You can never have too many pens or pencils, nor is there such a thing as too much paper when you're working from home. Having different kinds of paper helps as well. Be sure to have both lined and computer paper handy.
Thinking of going paperless? You'll still need some pens and some sticky notes for quick thoughts and meetings. You'll also need a place to store them.
5. Organizers
Whether it's for your writing materials or folders, organizers will never go out of style. Organizers come in many sizes and shapes.
Organizers can also be cardboard-based or made of mesh. Others are stainless steel, meaning that these are the best for stacks of paper and other documents. You can also select from organizers that hold stacks of paper vertically or flat.
In short, options abound — and so will the space on your desk if you order yourself a set of organizers.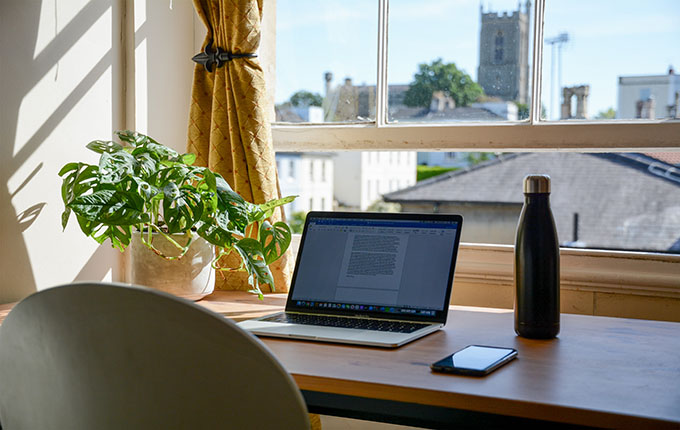 6. Whiteboards
A whiteboard can benefit you in several ways.
First, it provides you with a large surface on which to visually organize your ideas and concepts. With a whiteboard & markers, you'll be able to draw diagrams and concept maps that will help you in coming up with ideas and workflows.
You can also use your whiteboard for notes. The advantage a whiteboard might have over scrap paper or notebooks is that you can't lose a whiteboard. It'll always be on your wall, so its contents will always be open to view.
Lastly, when you're doing a video conference, a whiteboard allows you to display your notes to everyone present.
7. Retractable Pens
Retractable pens add to your home office setup beyond doubling as fidget toys (no judgment here). Unlike regular ballpoint pens with caps, retractable pens don't lend themselves to lost parts. In other words, with these types of pens, you don't have to scour your floors looking for the missing cap.
Since you'll be needing retractable pens, it's a good idea to order an entire set of them in varying colors. You can also order them in the color you primarily use.
Recently, gel ink retractable pens have hit the shelves of many office supply shops. These are fine. However, consider that regular ballpoint ink dries quicker and will not smudge on paper. Hence, if inkblots are an issue, you're better off with retractable pens with ballpoint ink.
Besides, these don't dry out as often, are easier to replace and are a lot cheaper by the bulk.
8. Shredder
Small or large, a shredder is a must for any office — even for the ones at home. A paper shredder can help you deal with wastepaper, especially if you have a lot to dispose of.
Paper shredders have been shrinking into more compact sizes to fit home offices. These smaller shredders may handle less volume, but you work in a home office — not a regular office that you're sharing with five or 10 other employees. A small size does the job very well for one person and saves you space and money.
9. Adjustable Standing Desk
Taking care of your health is something you should definitely be considering if you are used to sitting at a desk all day for work. An adjustable standing desk is a great option for preventative care for your legs and back. Make the investment and take care of yourself!
Having this versatility at your desk allows you to sit and relax or stand and stretch. Whatever your body is feeling it needs, an adjustable desk can accommodate.
There are a lot of different types of standing desks, but Amazon tends to have a good selection with varying types and prices.
10. Laptop Cooling Mat
A laptop cooling mat is a computer accessory. However, because of its ability to add years to your laptop computer's life, it deserves its own place in this list. Laptop cooling mats can help prevent your laptop from overheating, especially if you leave it on for hours on end.
Cooling mats aren't pricey these days. Usually, they're powered after you connect them via USB to your computer, so they don't need to be plugged into the wall sockets. Take care of the one thing you can't work without by adding a cooling map to your office setup.
Order with a Trusted International Parcel Forwarding Company
Ordering your work from home office supplies can be a pain, especially if you're ordering from multiple locations. Wherever you are, know that there's an international package forwarding service that cares about the fulfillment of your delivery.
At Shipito, we offer more than international parcel forwarding service. We're experts in business shipping solutions like package consolidation, fast mailouts, and assisted purchases to help make the process as smooth as possible.
Whatever you need, sign up today and let Shipito ship it to you!