Get ready for an afternoon stroll with your baby
If you're a parent-to-be or know someone who is, then you also know that there are a million and one things to buy before the little one arrives.
One of the most important purchases you'll make is the baby stroller. With so many options on the market, how do you choose which one is right for you?
We've made it easy for you by compiling a list of the five best baby strollers available today.
When you find the right stroller for you, it's important to make sure that your order will get to you safely and in the most cost-effective way possible. By working with an international package forwarding company like Shipito, you can ensure that your stroller will be shipped quickly, securely, and affordably.
International shipping doesn't have to be hard. We can help you buy products online and then deliver those products directly to your doorstep, no matter where in the world you live!
Click here for more information on how Shipito can help you with all your shopping and international parcel forwarding needs.
Before we jump into our top five list, let's first look at the different types of strollers that are available.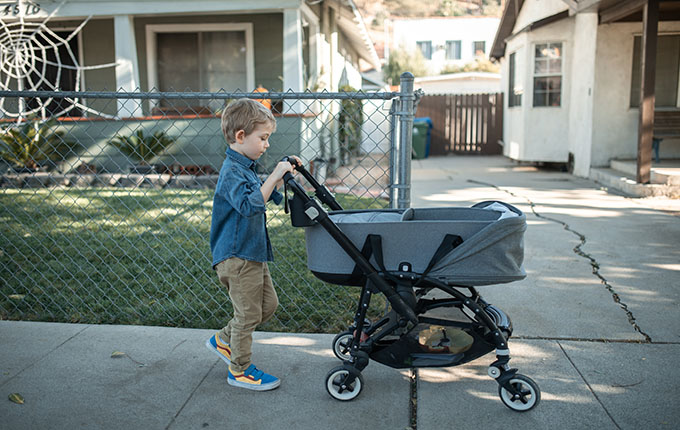 Types of Strollers
Jogging Strollers
Jogging strollers are perfect for active parents who want to take their baby along on a jog or run. They have three large wheels that make it easy to maneuver over uneven terrain, and the front wheel can usually be locked in place for stability when running.
These strollers are designed to allow you to run behind them without catching your foot or shin on anything. Most jogging strollers also come with a handbrake to control your speed when going downhill.
Standard Strollers
A standard stroller is the most basic type of baby transportation. It's perfect for everyday use and is best used on paved and smooth surfaces.
Most standard strollers have four wheels, but some newer models have three wheels for easier maneuverability. They also fold up so you can easily transport them in the trunk of your car or on public transportation.
These also tend to be compatible with baby car seats. So if you plan on doing a lot of walking with your very young child, this would be a good option to consider.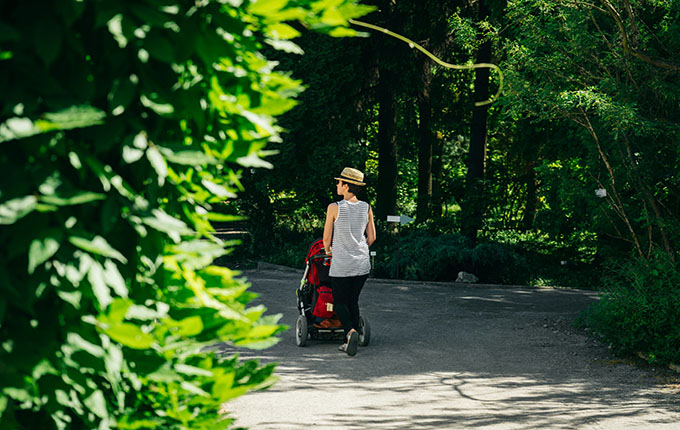 Double Strollers
Ideal for twins or siblings close in age; double strollers have two seats side-by-side or front-to-back.
Some models have a seat that reclines so your baby can take a nap, while others have a standing platform so your toddler can ride along.
Double strollers are usually wider than standard strollers, so they may not always fit through narrow doorways or even crowded sidewalks.
Umbrella Strollers
A stroller with a canopied top that folds down like an umbrella, this type of stroller is lightweight and easy to carry.
Umbrella strollers are perfect for travel because they're lightweight and folds quickly. Since they're so compact, they're also a good choice for parents who don't have a lot of extra storage space.
While they don't normally have all the bells and whistles of other, more expensive strollers, they are still a great option if you're looking for something on-the-go.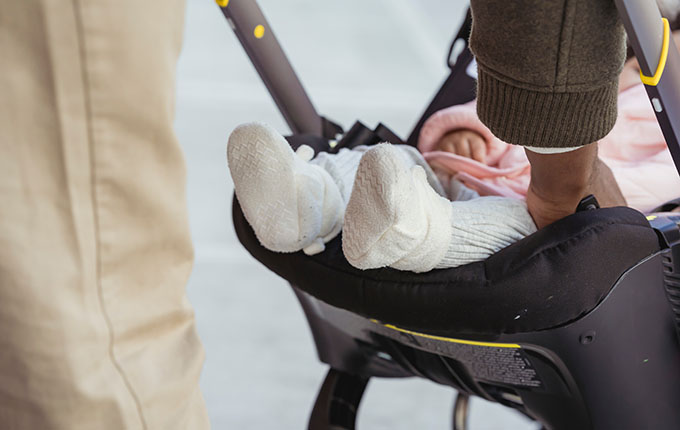 How to Choose a Stroller
Now that you know more about the different types of strollers, how do you choose the right one for you and your baby?
Here are a few things to keep in mind when making your decision:
Where will you be using the stroller? Look at your lifestyle and needs. If you're an active parent who likes to jog or run, then a jogging stroller is a good option. If you live in the city and do a lot of walking, then an umbrella stroller might be a better choice because it's lightweight and easy to maneuver.
How long will you need the stroller? A regular stroller will suffice if you're only planning on using a baby stroller for a few months. However, if you believe you'll need a stroller for the long run, buying a higher-end model might be worth it.
What is your budget? Strollers can range in price from $90 to $1000, so it's essential to set a budget before you start looking. Keep in mind that you can always find good deals on secondhand strollers.
Is your space limited? Strollers can be bulky and take up a lot of space, so if you have limited storage, then an umbrella stroller that can easily be folded up is a good choice.
Now that we've gone over the different types of strollers let's look at our top five list.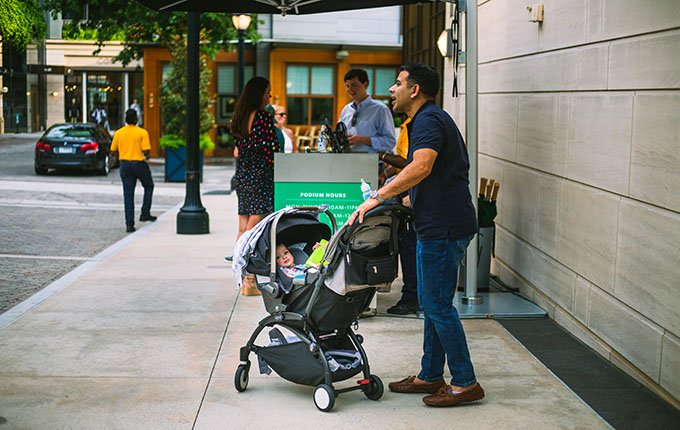 Five Best Strollers Worth Your Money
Best Overall: UPPAbaby Vista V2 Stroller
Why We Love It: The UPPAbaby Vista V2 Stroller is our top pick for the best overall baby stroller. It is intuitive, easy to use, and can be configured in multiple ways to suit your needs.
What makes the Vista V2 genuinely unique is its ability to grow with your family. The stroller starts as a single stroller and can be converted into a stroller that can accommodate three children.
A bassinet is included for newborns, which can be swapped out for a toddler seat when your child is ready. The Vista V2 also has a ventilated canopy that provides UPF 50+ sun protection.
Don't let the price tag on this stroller scare you. It is worth every penny and will be the only stroller you ever need to buy, which is why we recommend the UPPAbaby Vista V2 Stroller as our best overall choice.
However, if you are looking for a similar stroller with fewer bells and whistles, check out the UPPAbaby CRUZ V2 Stroller. It has everything you need for a single child. While it doesn't expand and grow with your family, it serves as a great option for the here and now.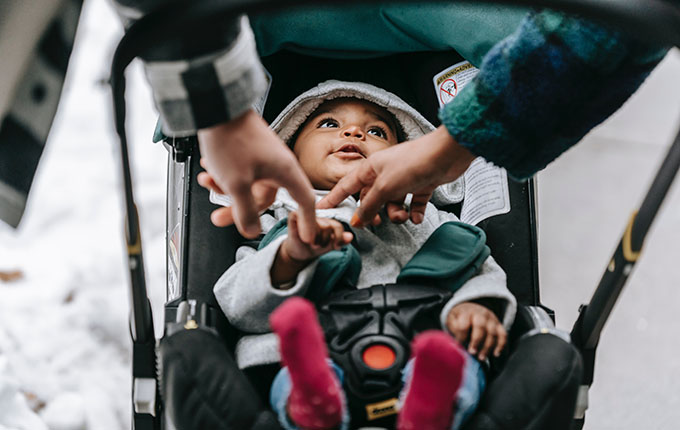 Best Double Stroller: Baby Jogger City Mini Double Stroller
Why We Love It: The Baby Jogger City Mini Double Stroller is the best double stroller for those who are looking for a smooth ride. The stroller features a one-handed fold which is perfect for parents who tend to have their hands full.
The City Mini Double also has all-wheel suspension and can fit through standard doorways, perfect for city living. The stroller has a weight capacity of 50 pounds per seat to accommodate two toddlers or twins.
Peek-a-boo windows in the canopy allow you to watch your little ones, and the seats recline for naptime, making it the perfect double stroller. We recommend the Baby Jogger City Mini Double Stroller for any on-the-go parent with 2 kids in need of a stroller.
Don't mistake our best double stroller recommendation with our best jogging stroller recommendation, which is coming up next!

First, are you having trouble making your purchase? When you take advantage of Shipito's Assisted Purchase service, we remove the stress that often follows online shopping. Simply let us know what product you want, how many you want, and a link to the product, and we will make the purchase for you. The charge will be credited to your account, making your shopping experience as easy as possible!
Best Jogging Stroller: BOB Gear Revo Flex 3.0 Jogging Stroller
Why We Love It: Jogger parents have been raving about the BOB Gear Revo Flex 3.0 Jogging Stroller. The stroller has a lightweight aluminum frame that makes it easy to push and maneuver.
The suspension system is likened to a mountain bike which makes for a smooth ride, even on rough terrain. The Revo Flex also has an adjustable handlebar, so you can find the perfect fit for your height.
It can work with an infant car seat, plus a large storage basket underneath is perfect for holding all of your gear. If you and your baby plan on living an active lifestyle from the start, we recommend you give the BOB Gear Revo Flex 3.0 Jogging Stroller a try.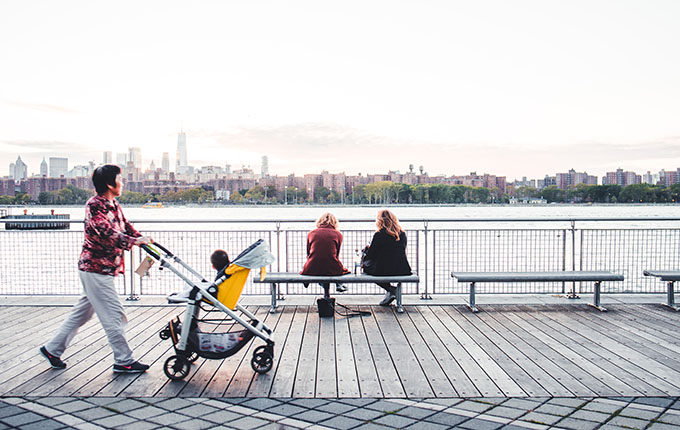 Best Umbrella Stroller: Summer Infant 3Dlite Convenience Stroller
Why We Love It: Four reclining positions, a large canopy, and anti-shock front wheels make the Summer Infant 3Dlite Convenience Stroller the best umbrella stroller on the market.
The Summer Infant stroller folds vertically instead of horizontally, making it easier to store in small spaces. The stroller is also very affordable despite having features usually only found on higher-end strollers.
A five-point harness keeps your child secure, and an XL storage basket underneath can hold all of your essentials. The canopy is also excellent for sun protection. For quick adventures outdoors or for the parent needing to save space, we recommend the Summer Infant 3Dlite Convenience Stroller.
Curious how much these items will cost in shipping? Simply use the Shipito Shipping Calculator to get a shipping estimate. Simply select your warehouse and country of origin, then input the package weight and dimensions, and we will calculate your shipping estimate for you!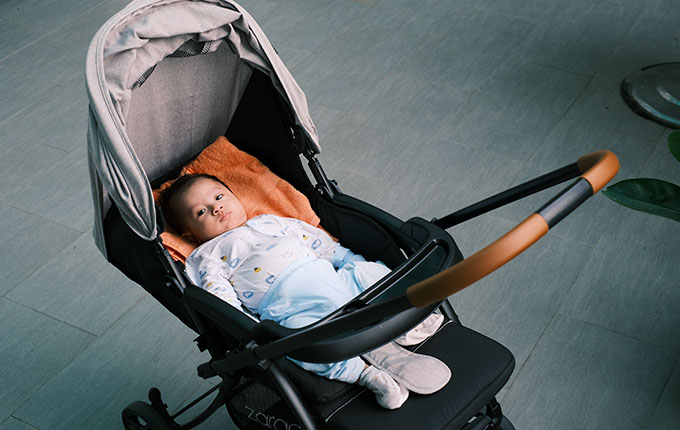 Best Value Stroller: Graco Modes Element LX Stroller
Strollers can be expensive, but the Graco Modes Element LX Stroller is an excellent option for those on a budget.
If you're looking for a versatile stroller that can grow with your baby, the Modes Element is perfect.
The stroller has a three-in-one design that can be used as a car seat carrier, infant stroller, and toddler stroller. It even comes with an infant car seat, adding to the value. The stroller also has a one-handed fold for easy storage and transportation.
Despite being budget-friendly, the Modes Element doesn't skimp on features. The stroller has a roomy storage basket and a reversible seat that can be configured to face forward or backward. If you are in need of a simple budget stroller that still meets all of your needs, there is no better choice than the Graco Modes Element.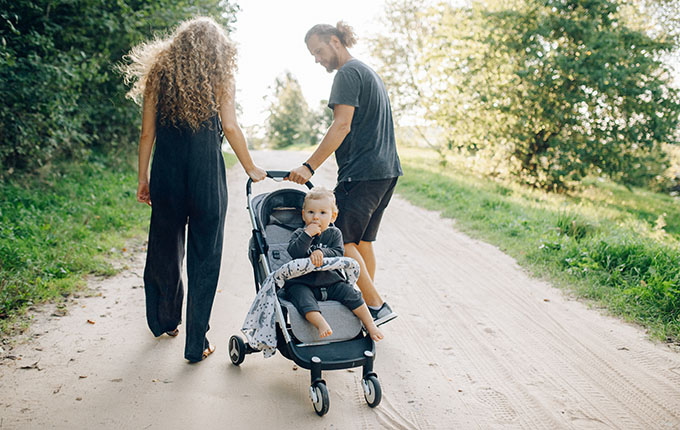 Final Thoughts
Baby strollers are an essential piece of gear for any parent. With so many options on the market, it can be overwhelming to try and find the perfect stroller for your family. Plus, with new technology, features, and designs being released, it can be hard to keep up with the latest and greatest designs.
This list hopefully makes your decision a little easier. Whether you're looking for the best overall stroller, the best value stroller, or the best jogging stroller, there's an option on this list that will suit your needs.
Make shipping easy by partnering with a reliable company like Shipito. We offer free accounts as well as Premium memberships and Business memberships . Each membership comes with different benefits like additional discounts, savings, and services to make your shipping experience the best it can be.
Sign up today to get started on your first purchase and begin taking advantage of the many features and benefits offered to you by Shipito.
Still have questions? You can contact us via Live Chat Monday through Saturday 4 am at 6 pm Monday to Saturday and Sunday from 4 am at 3 pm Pacific Time. You can also reach us by email at support@shipito.com or by phone at +1 (310) 349-1182.