Refresh your lifestyle
The start of the new year gives us all the opportunity to start living healthier lives. One easy change we can all get behind is to keep ourselves hydrated all day, every day!
Drinking water is a simple yet effective way to improve our physical performance and even lose weight. Unfortunately, many of us don't actually drink enough water each day.
Motivate and remind yourself to drink more water with a special, reusable water bottle. Our carefully curated list of the best reusable water bottles you can find online is bound to have one (or two) that would be perfect for your lifestyle!
When you live outside the U.S., shipping the best reusable water bottles from Amazon can cost more than the product you ordered. That's why it's always better to work with international package forwarding services like Shipito.
Shipito offers international package forwarding services and international business shipping solutions. We make sure all your orders from U.S. stores arrive safe and on-time anywhere across the globe.
Check out our top seven best reusable water bottles you can order online today: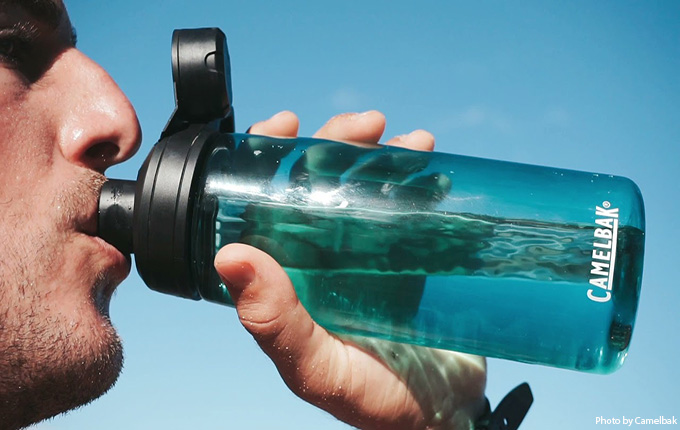 1. Camelbak Chute Mag Water Bottle
Size Options: 25 oz, 32 oz, & 50 oz
Dishwasher Safe: Yes
Why It's Amazing: Let's start off with our best all-around water bottle for everyday use. This durable, lightweight bottle is perfect for any situation, whether you are on a hike, in the office, or just for everyday use. The Chute Mag doesn't have any small parts which makes assembly and cleaning easy. It's BPA free, designed to never leak, and you'll never losing the cap!
These bottles come in over 10 different colors, to match anyone's style & personality and are an incredibly affordable option for anyone wanting to drink more water each day.
Get This If: You're looking for a dependable, easy to clean, everyday water bottle.
2. Simple Modern Wave Steel Water Bottle
Size Options: 17 oz and 34 oz
Dishwasher safe: No
Why It's Amazing: This double-walled and vacuum insulated water bottle is the best at keeping your water at your desired temperature. The bottle also features a premium copper-coated insulation layer to ensure your water stays as cold as you want it to.
The sleek, tapered profile makes this the best water bottle for keeping in an already full backpack or handbag. The narrow opening also helps reduce spills and sloshing when you take a sip.
Priced at only $15, this Simple Modern Wave Water Bottle is a great, budget-friendly alternative to the viral and trendy S'well water bottles.
Get This If: You love to drink cold and refreshing water all day. You love the look of the S'well water bottle but not the price.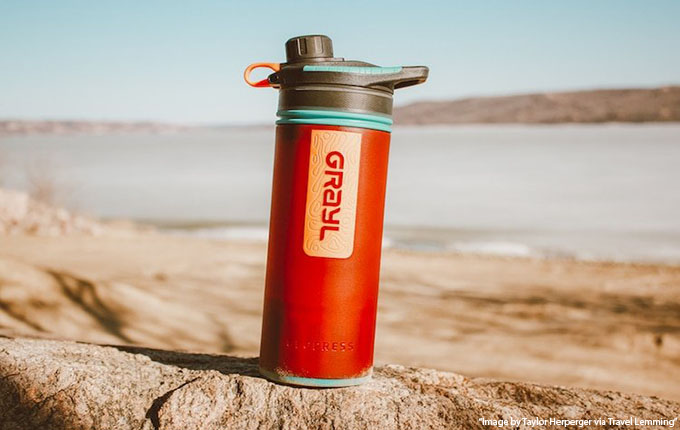 3. Grayl GeoPress Purifier
Size Options: 24 oz
Dishwasher safe: No
Why It's Amazing: The Grayl GeoPress Purifier is an absolute beast at purifying water, even water that already seams relatively clean! Its heavy-duty filter can make dirty river water filled with dirt, sand, chemicals, pathogens, and heavy metals safe to drink.
This water purifying bottle is easy to use, too! All you need to do is take out the Inner Press and fill the Outer Refill with water. After that, fit the Inner Press into the outer container, open the vent cap, and press down steadily with all your weight. You'll instantly get safe and clean drinking water while on the go.
Get This If: You're an avid hiker, climber, or backpacker. It's worth the money
4. Contigo Autospout Ashland Water Bottle
Size Options: 24 oz, 32 oz, and 40 oz
Dishwasher safe: Yes
Why It's Amazing: This amazing reusable water bottle has an angled straw to make sure you can get every last drop of water inside. Additionally, it has a pop-up spout that opens with the press of a button. To keep your water from spilling, there's also a button lock so you don't accidentally press the autospout button.
The combination of the straw, spill-proof cap, and spout, as well as the easy one-handed operation, makes this the best reusable water bottle for anyone with shaky hands. And, since it has a straw, you can infuse your water with lemon, cucumber, and fruit slices without having them block the opening.
Get This If: You've got shaky hands or prefer to drink with a straw.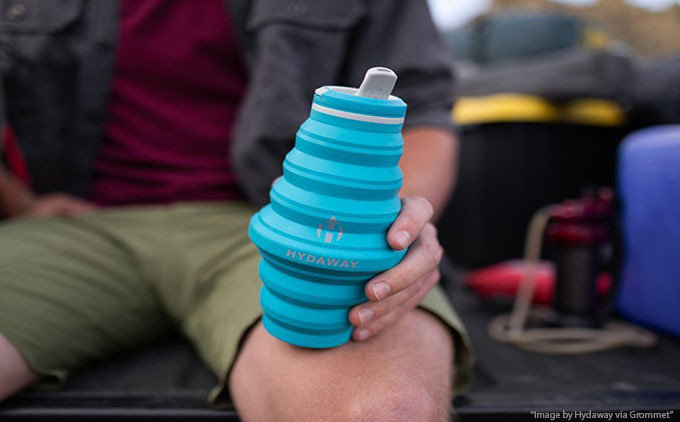 5. HYDAWAY Collapsible Water Bottle
Size Options: 17 oz and 25oz
Dishwasher safe: Yes
Why It's Amazing: The HYDAWAY collapsible water bottle folds down to a slim, 1.5-inch thick disc that fits in the pocket of your jeans, coat, handbag, backpack, and more. This makes it the best reusable water bottle for you if you often go on plane trips.
We all know how strict TSA is when it comes to bringing in liquids. You can't bring bottled water but you can bring an empty, reusable bottle and fill it up with water after passing the security check. This way, you can stay hydrated even while up in the air.
HYDAWAY ensures the bottle has watertight seals all around. Best of all, this reusable water bottle is made of non-toxic, food-grade silicone and can fit into most car cup holders.
Get This If: You're a frequent flyer or on-the-go traveler with limited travel space.
6. Dexas Snack Duo Dual Chambered Hydration Bottle and Snack Container with Collapsible Pet Cup
Size Options: 12 oz (360 mL)
Dishwasher safe: Yes
Why It's Amazing: This water bottle is divided into two tightly sealed side-by-side chambers: one for snacks and one for water. It also features a clip-on collapsible bowl to hold snacks or water. The leak-proof pop-up cap and flip-top lid makes it easy to drink water and get snacks all in one easy container.
Look, we know this water bottle is marketed for pet owners. Still, we think it's perfect for little kids and families — especially those that make lots of trips. Simply fill one side with water and the other with Goldfish crackers or M&Ms to keep your little ones happy and full throughout the drive.
Get This If: You take lots of trips with your kids or you're a chronic snacker.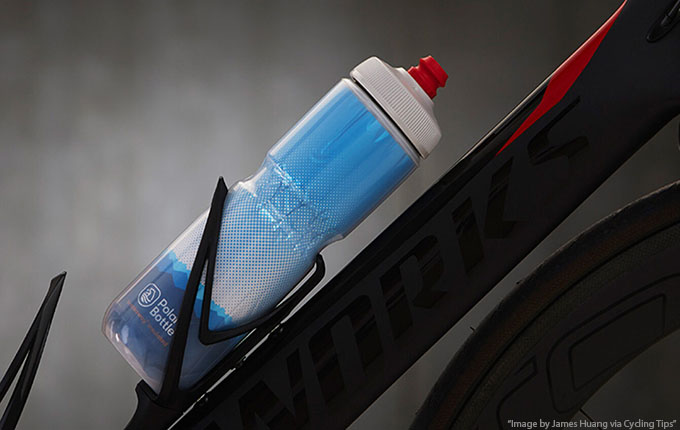 7. Polar Bottle Breakaway Insulated Bike Water Bottle
Size Options: 20 oz and 24 oz
Dishwasher safe: Yes
Why It's Amazing: There are a lot of squeezable water bottles for cyclists out there but not all of them can keep your water cold throughout your trip. The Breakaway sports squeeze water bottle from Polar Bottle features tri-layer insulation to keep water up to two times cooler for a longer period.
This squeeze bottle has a high-flow and a self-sealing cap that helps prevent spills and splatter when drinking while cycling. It's also a great gym buddy for anyone who needs a quick drink while working out. The bottle is also 100% BPA-free and specially designed to fit bike bottle cages.
Get This If: You're a cyclist, an athlete, or a regular at the gym.
Stay Healthy and Hydrated
Having a reusable water bottle always on hand is a great way to remind yourself to stay hydrated. They're also more cost-effective and environmentally friendly than single-use bottled water!
With any of these reusable water bottles, we're sure you'll energized to drink your recommended eight glasses of water each day! You can find all of our picks for the top ten best reusable water bottles on Amazon. Order your favorite now and start a healthier (water) drinking habit in 2022.
With our reliable international parcel forwarding service, you can rest assured your order will arrive safely and on time — no matter where you are in the world.
We make sure you get your order on time while also helping you keep your shipping fees down to a minimum.
Sign up for Shipito's international package forwarding services today and start ordering more products while paying less for global shipping fees.
Having trouble ordering? With Shipito's Assisted Purchase service, we can help you buy your water bottle of choice and get it sent on its way! We can also Consolidate and combine multiple orders into one box for even more savings!