Up your cooking game with new appliances
When it comes to kitchen appliances, you don't have to settle for the base standard. There are plenty of options aside from your oven, toaster, and microwave.
While these can help you accomplish the most basic cooking tasks, there are other small kitchen appliances that can take care of your more specialized cooking needs.
Worried about being able to get these appliances to where you live? Well, worry no longer! These kitchen appliances and gadgets can be ordered online from US-based stores and shipped to your home with an international package forwarding service like Shipito.
Shipito specializes in helping you find hard to find items and delivering them directly to your doorstep, no matter where in the world you may live. We do so with fast shipping and affordable rates to make your international shipping experience as easy as possible. Click here for more details on how Shipito can help you!
In this article, we'll break down some of the best kitchen appliances you can add to your current collection. Let's jump right in!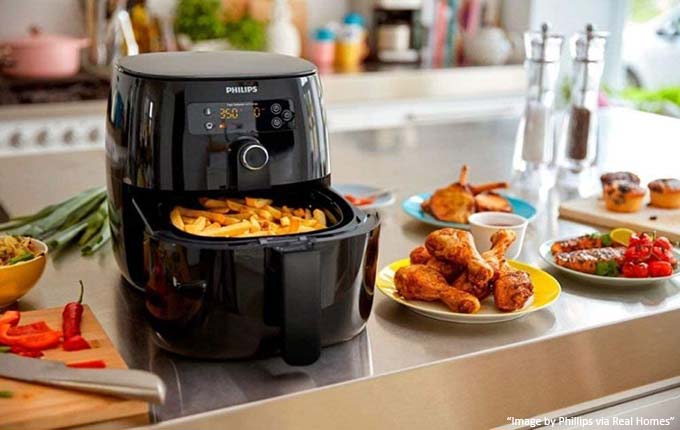 1. Air Fryer
During the first months of the pandemic, the air fryer craze took over the world. So many people took a chance and found a new multifunctional appliance for their countertop. If you haven't tried an air fryer yet, there's still plenty of time to join the bandwagon — the momentum doesn't seem to be slowing down any time soon.
Why are air fryers so popular? It's all about the healthy cooking features of these appliances. By using hot air and convection, they're able to mimic larger ovens and "fry" food without needing much, if any, oil.
This reduces the number of calories and fats in foods like chicken or french fries. The most exciting part is that this unique mechanism doesn't sacrifice taste, so you get all the flavorful and crispy results you love without deep frying your food in oil.
The same convection technology makes air fryers multifunctional. Aside from frying food, you can bake muffins, roast entire chickens, and warm leftovers. Air fryers are also convenient and compact gadgets that are easy to clean and operate. Most models have detachable plates and baskets that you can put right in the dishwasher.
It's no wonder why air fryers exploded in popularity over the last few years. This versatility makes the air fryer freshest and most useful gadget to add to your countertop.
Companies are releasing new and improved models year after year. You'll find ones like the Ninja Air Fryer on the luxury end of things and the Walmart Air Fryer on the affordable side. We suggest the Philips Essential Air Fryer as a good middle of the road air fryer. It provides a quality product at a still reasonable price.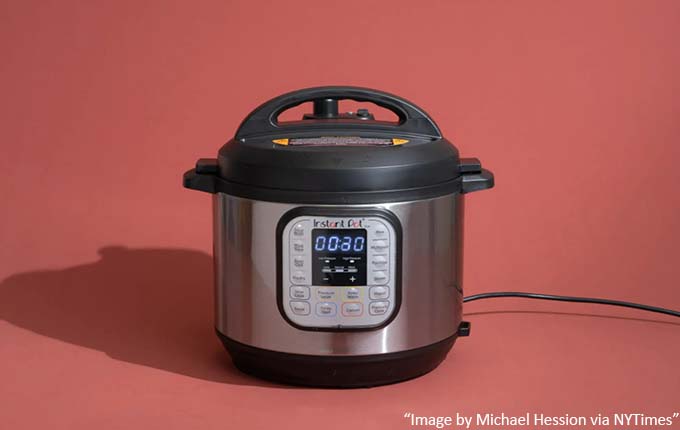 2. Instant Pot Duo
Instant Pot is one of the most well-established brands in kitchen appliances, and they carry an assortment of products for all your needs. One of their most in-demand items is the Instant Pot Duo, a 7-in-1 cooker that might just be your next favorite appliance.
So, why are so many people attracted to this gadget? Well, this thing can replace seven appliances while taking up little to no space on your countertop. It comes with many preset functions that allow you to use it as a:
Pressure Cooker
Rice Cooker
Sauté Pan
Steamer
Slow Cooker
Yogurt Maker
Food Warmer
All of these functionalities are packed into one little tool! The convenience is unparalleled, so it's no surprise that the Instant Pot Duo is flying off the shelves.
Its multifunctionality isn't its only advantage. It comes in a six-quart model that has enough space for large meals, so if you have to prepare for a special occasion, the Instant Pot Duo becomes a dependable companion. And you never have to worry about durability; Instant products are made to be sturdy, even with frequent use.
For all of these reasons, we recommend the 6-Quart Instant Pot Duo as your next kitchen purchase.
Having trouble finding or purchasing a product? Let Shipito help you with that! With our Assisted Purchase service, simply tell us the type and quantity of the product you are wanting to purchase, and we will make the purchase for you and charge your account. Simplify your shopping and use Assisted Purchase on your next order!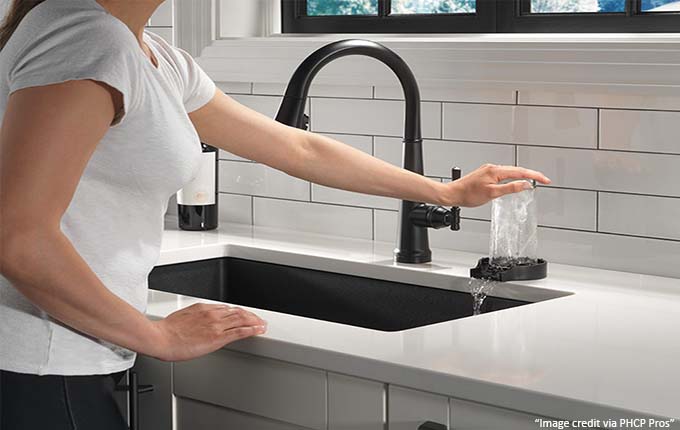 3. Glass Rinser
Do you ever pull cups out of the dishwasher or even the cupboard and notice it doesn't look entirely clean? Residue left behind on your glassware is irritating, and it's even worse when grime gets stuck into corners that you can't reach.
Small openings make it hard to access these points, and the dishwasher can't clean it completely just by spraying some water on it. The result is residue in the inner corners of your glasses, which looks gross and can allow bacteria to grow.
Fortunately, there's a modern invention for that: a glass rinser. This sink add-on is one of the rarer kitchen appliances around, so you may not have even heard of it being used in a residential setting.
These rinsers are designed to clean glass cups, pitchers, bottles, and even blenders. By using high-pressure water that shoots out of radiating pipes, a glass rinser can easily remove stains, residue, and gunk inside your glassware. To use one, you simply put the glass on top and push it down like a button to activate the sprayer.
Since they easily attach to your sink, you can handle the installation yourself, making the whole process hassle-free. For a good all-around kitchen sink attachment, we recommend the Delta Faucet Glass Rinser.
You can also find them among other Walmart kitchen appliances if you're looking for a budget-friendly option. Each model offers unique features and advantages, so a bit of research never hurts! Make sure to find one that you can easily integrate into your sink.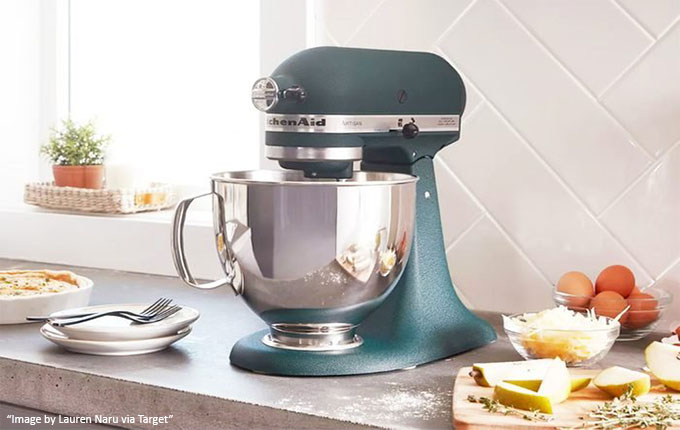 4. KitchenAid Mixers
KitchenAid is one of the juggernauts when it comes to home appliances, and they carry one of the widest selections of products and attachments.
One of their best-sellers, and our recommendation, is their KitchenAid Mixers; whether you need a stand mixer or a hand mixer, their tools are versatile and heavy-duty pieces of equipment that are perfect for casual cooking at home or busy days at restaurants. It's no wonder why so many chefs and home cooks have KitchenAid stand mixers on their countertops.
One of the most common uses of the stand mixer is, of course, mixing doughs and batters for baking. Both types of mixers are great for making meringues and frosting. However, that's not all these appliances are capable of.
With the right attachment, you can grind meats, slice vegetables, peel fruits, create homemade pasta, juice your fruits, or even make ice cream. The possibilities are endless! All it takes is a proper understanding of how each attachment works.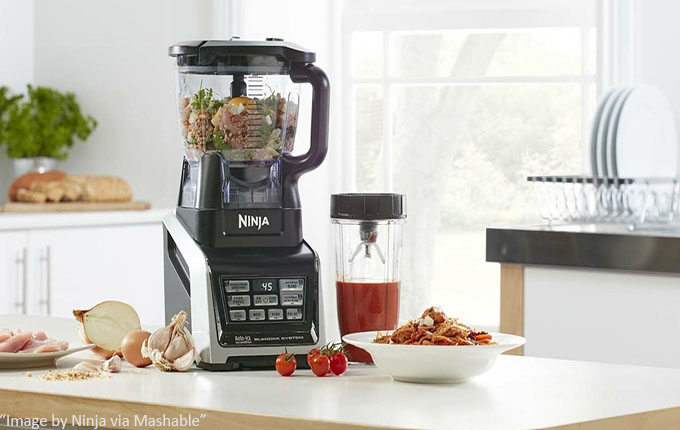 5. Ninja Blender
As one of the most well-established makers of quality kitchen appliances, Ninja offers plenty of products that will elevate your cooking experience. Among their most well-known line of kitchen appliances is their line-up of blenders. These small kitchen appliances do some heavy-duty work and offer plenty of functionalities that make them worthwhile purchases.
There are plenty of sizes to choose from, so whether you want a small one for workout smoothies or a larger model for a food truck business, Ninja has it ready for you. Whichever capacity you choose, you can expect a powerful motor that will crush and pulverize even the hardest ice or frozen fruits.
These blenders can also work as food processors, delicately slicing ingredients like leafy vegetables and nuts as your recipe demands. You can even use the blenders for nutrient extraction; the multi-tiered blades can break down fruit and vegetables into full-bodied juices that are perfect for your diet.
Cleaning is also a breeze, no matter the kind of ingredients you put into your Ninja blender. The pitchers are dishwasher safe, and every component is BPA-free, making the Ninja Professional Countertop Blender our recommendation for the perfect new addition to your kitchen counter gadgets.
If you find yourself shopping for multiple items from different stores, the thought of shipping each of those packages can weigh heavy on your wallet. But it doesn't have to! With Shipito's Package Consolidation service, you can save up to 80% on shipping costs when you combine multiple orders into one, ready-to-ship package.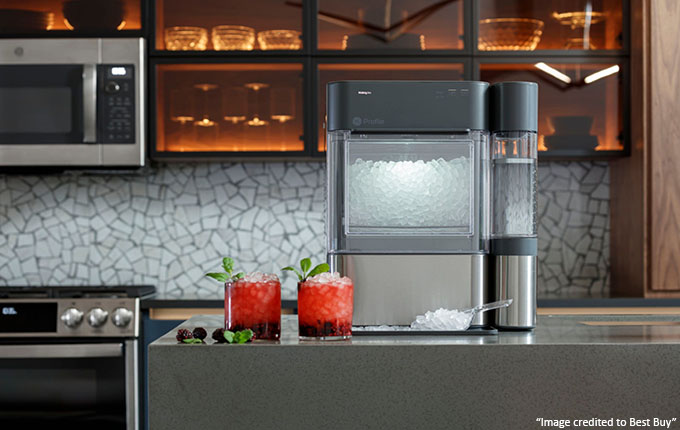 Honorable Mention
We've already hit five, but it'd be remiss of us not to mention this handy gadget as well. If you live in a humid location or you're always in need of ice for smoothies and desserts, then a pebble ice machine is a must-have!
Pebble ice is a better alternative to tube or cube ice, since they have the ideal surface area for juleps, sparkling wines, and ice beds for fresh shellfish. Carrier, GE, and other brands in the refrigeration industry carry high-quality pebble ice makers.
If you are looking for crunchy pebble ice for your day to day drinks, you should check out the GE Profile Opal countertop ice maker.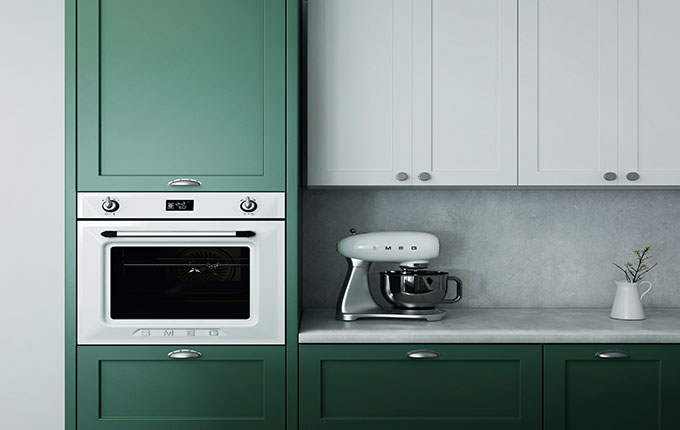 Get your Appliances Fast with a Premier International Mail Forwarding Service
Ordering online is a convenient way to get all these kitchen appliances, but shipping can be a bit of a hassle. However, you can leave all of that behind when you work with a trusted international parcel forwarding company like Shipito. We'll ensure that your items are shipped on time and without any damage, all the way to your doorstep!
Shipito specializes in international package forwarding and has customers all over the world. We offer Free and Premium accounts as well as our Shipito for Business membership depending on your shipping needs. Each membership has specific discounts and benefits designed to help make your international shipping experience hassle-free.
Have questions about any of membership options? Check out our sign-up page for a list of benefits and discounts for each option. When you find the best fit, you can sign up for your new account and start saving immediately!
Still aren't sure? Feel free to reach out to us. You can contact us via Live Chat Monday through Saturday 4 am at 6 pm Monday to Saturday and Sunday from 4 am at 3 pm Pacific Time. You can also reach us by email at support@shipito.com or by phone at +1 (310) 349-1182.