Shop online in the U.S.A.
Many products are less expensive in the U.S.A.
Shop online and we will ship anywhere in the world
We will provide you U.S.A. address and package forwarding service.
1. Shop in any U.S. online store
Unfortunately, some stores do not offer shipping for international customers. We have solved that problem. You can shop in any U.S. store and have packages mailed to your new Shipito address. You can use multiple addresses available in all our Shipito warehouses, and even shop internationally.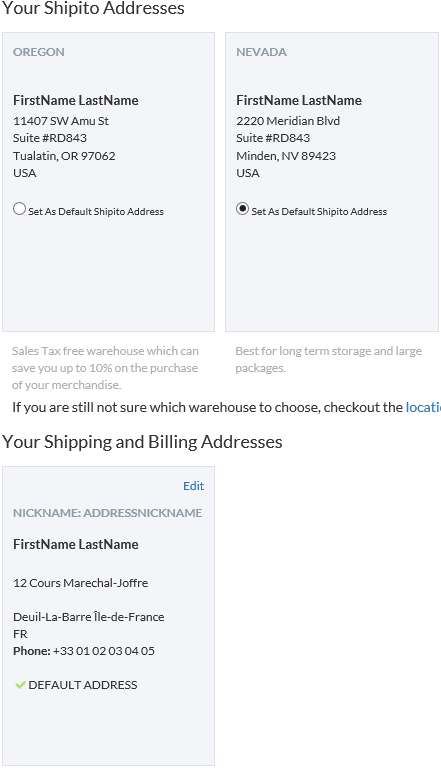 You will get your box number in the email shortly after registration. Just fill out an application below and we will send you your mail box number when we process your order. Please be aware that every account needs to be verified (for example by submitting copy of your ID and 1583 form) and you can never have anyone else to pay on your account (no third party payments).
2. We will receive your package
When we receive your package, we will notify you via email. We will enter information about sender and tracking number so it will be easy for you to identify the package. We even take photo of the shipping label and whole package so you can see exactly what you are getting.
You will also need to truthfully complete a customs declaration (package content and value). Customs description and value is required for international shipping, and we are not able to send packages without correct information.

When you are not sure what is inside the package (for example if the merchant divides one purchase into multiple packages), we can open it and check the contents and/or take photos. Use SPECIAL REQUEST on your account.
3. We will ship the package to you
Postage to your country will be automatically calculated, and you can select what is the best shipping method for you. Once you select the shipping method and mailing schedule, we will ship your package. Feel free to use the Shipping Calculator to see your options right now.

How much does it cost ?
The shipping cost is shown in our Shipping calculator. If you ship just one package it will cost you $2 + the shipping cost. We offer an INDIVIDUAL PACKAGES plan and a VIRTUAL MAILBOX (consolidation) plan. See full info under Our Services and Prices.